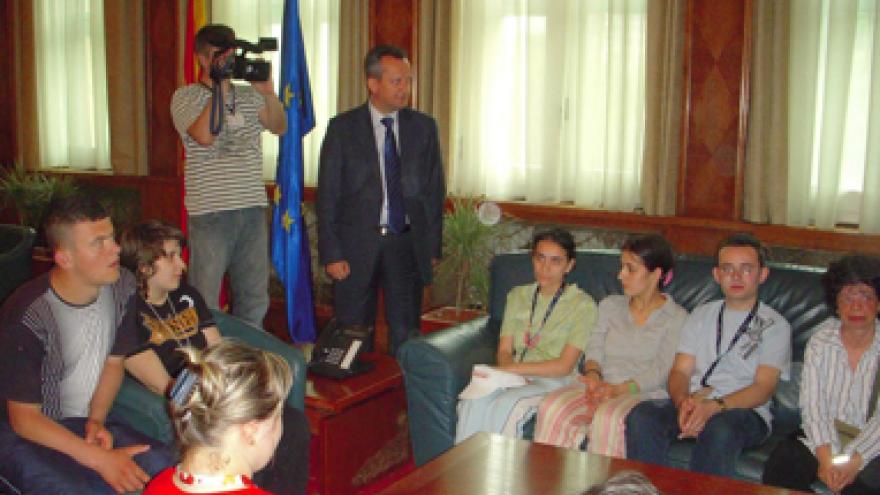 "This campaign was a long time coming and we are so delighted that our hard work paid off. The experience really transformed the way we as an organization think about legislative advocacy and our role in the democratic process."
Vasilka Dimovska, Poraka program manager
Defining the Campaign Issue
Historically in Macedonia, people with disabilities have been segregated in school and faced significant stigma that has made it difficult for them to find work and integrate into mainstream society. Left with few options, many families have institutionalized disabled relatives. The Republic Center for the Support of Persons with Intellectual Disability, or Poraka, launched in 1963 to provide support to the country's 20,000 people with disabilities and their families.
Strategic Approach
Poraka's original focus was organizing community chapters around the country to provide services to members and conduct local education activities. Then, in 2009, Poraka decided it could to do more and considered having political strategy to advance its goals. At the time, Macedonia focused a great deal of political energy on international issues. In response, Poraka adopted a strategy that tapped into that appeal and developed a campaign to encourage the government to ratify the United Nations Convention on the Rights of Persons with Disabilities (CRPD), which it had signed in 2007. Ratification of the convention would be a step toward aligning Macedonian law with international standards on the rights of people with disabilities. Furthermore, it would provide a framework for policy advocacy for Poraka and other groups working to promote the rights and quality of life for people with disabilities.
Then a political crisis in 2011 led to early elections in June that gave Poraka a new opportunity--this time in the heat of the election campaign. At first, Poraka was nervous about getting involved. Politics in Macedonia are highly polarized and Poraka did not want to risk backtracking on the gains it had made by coming across as partisan. At the same time, it knew that there would be few other opportunities to engage elected officials who would be distracted by the campaign. Poraka opted for a pledge card campaign as a way to tap into the desire of political parties to attract voters without formally endorsing any one party.
Tactical Actions
The effort began as a multifaceted lobbying and education campaign to build support for the initiative among members of parliament, government officials and the public before evolving into a pledge campaign aimed at political parties in the lead-up to the elections.
Education for members of parliament - Local Poraka chapters proved to be valuable assets for reaching out to MPs. To assist their efforts, Poraka prepared educational packages with easy to read brochures and newsletters for the local chapters and planned a week of action when it organized events to educate MPs about the CRPD and the needs of people with disabilities. To ensure the chapters were all moving in the same direction, Poraka leaders held briefing sessions around the country and discussed how to lobby members of parliament in their home districts. Poraka developed and disseminated campaign materials to the chapters, including posters, leaflets and an informational brochure featuring its slogan: "So that Rights Become a Reality!"
Media outreach - To reinforce these local efforts, Poraka pushed its message at the national level. It wrote an opinion article in one of the biggest daily newspapers, Dnevnik, arguing for immediate ratification of the convention.
National conference - Poraka also organized a conference on the rights for people with disabilities and ratification of the CRPD. It was scheduled to take place while Macedonia was the chair of the Council of Europe, which facilitated international attention on the issue and incentivized the government to participate in the event. Poraka drew on leaders' interest in presenting a positive international image and demonstrating support for marginalized groups, which is among the key European Union priorities. Using this messaging strategy, Poraka saw some success in building support among lawmakers for the CRPD, but found passage of legislation ratifying the convention elusive.
Campaign pledges - Two weeks before the election, Poraka approached leaders of each of the 10 political parties in Macedonia and asked them to sign a pledge to ratify the CRPD within 100 days of the convening of the new parliament. The campaign was widely covered by the national press; Poraka representatives appeared on TV, radio and in national newspapers almost every day. As election day drew near, nine parties signed the pledge, but the largest ruling party in the government coalition resisted making a commitment. Shortly before the election Poraka held a press conference. While it did not publicize which party had not signed, it was able to raise awareness among citizens about the ratification campaign and put pressure on the ruling party to commit to joining the effort.
Campaign Outcome
Although it took longer than 100 days, eventually the parliament did ratify the convention, by unanimous vote, in December 2011 – in time to mark the International Day of Persons with Disabilities. But the work did not end there for Poraka. The signed CRPD has become the framework for ongoing advocacy efforts to fight for rights for people with disabilities. The CRPD commits signatories to providing status reports on implementation of domestic laws related to the rights of people with disabilities. Poraka has found that working with the government to meet this requirement has been an effective way to maintain access to decision makers as well as further its efforts to improve the policy environment for people with disabilities. In 2013, Poraka completed a survey on the status of people with disabilities and provided it to the government to use in its status report. With its new level of access, Poraka also began to push for reforms to domestic laws on disability issues to bring them into line with the CRPD.
Through Poraka's education efforts during the fight for ratification, it developed relationships with government officials that have resulted in better access to the decision making process. Moreover, fitted with information about the needs of people with disabilities and obligated to meet the requirements of the CRPD, decision makers have been more open to working with Poraka. "This campaign was a long time coming and we are so delighted that our hard work paid off," said Vasilka Dimovska, program manager at Poraka. "The experience really transformed the way we as an organization think about legislative advocacy and our role in the democratic process."